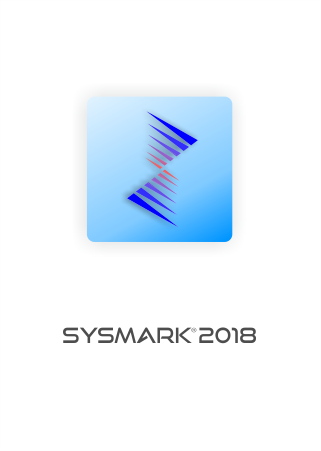 SYSmark 2018 
SYSmark® 2018 is an application-based benchmark that reflects usage patterns of business users in the areas of  Productivity, Creativity and Responsivess. The new Productivity Scenario has updated workloads and applications geared towards office centric user activities. The new Creativity Scenario which has updated workloads and applications geared toward media centric user activities. In addition, the new Responsiveness Scenario models 'pain points' in the user experience when performing common activities that include: application launches, file launches, web browsing with multiple tabs, multi-tasking and background application installation.
SYSmark 2018 features an all new GUI, streamlined to make testing with SYSmark easier than ever before. Reporting is available in a convenient combined, single result PDF.
End of Life:
As of 1 August 2022, BAPCo ceased sales and support of SYSmark 2018, and will no longer accept results submissions from SYSmark 2018 version 1.0.0.0. Patches for end of life products will not be released. 
Customers are encouraged to move to SYSmark 25, in order to get the benefits of the updated applications, workloads, and benchmark design.
Questions may be directed to [email protected] or [email protected].
SYSmark® 2018 All New Features:
Support for Microsoft Windows® 10, Windows® 7 (64-bit only)
New graphical user interface
Shorter install and run times
Simplified "click and run" design which makes it easy for the user to run the benchmark
A streamlined "click-and-run" user interface. Localized GUI and documentation for English (US), Chinese (Simplified), German, Russian, Portuguese (Brazilian), Japanese, Spanish, Polish, French
All new updated applications (Microsoft Office 2016, Google Chrome version 65, Adobe Acrobat Pro DC, Adobe Photoshop CC (2018), Cyberlink PowerDirector 15, Adobe Lightroom Classic CC, AutoIT 3.3.14.2). SYSmark 2018 uses only unmodified, retail versions of real-world applications for measurement
New Productivity Scenario which has updated workloads and applications geared towards office centric user activities
New Creativity Scenario which has updated workloads and applications geared toward media centric user activities
Revamped Responsiveness Scenario which has updated workloads and applications geared towards user interaction and experience
Improved results (FDR) formatting. New combined, single results PDF. Automatically generates results as PDF
Allows active Internet connection during benchmark installation and execution
Updated system configuration that restores the original user settings
Energy Consumption feature which records energy usage in watt-hours during the workloads. Requires a Yokogawa WT310E or Watts Up Pro meter (buy @ the BAPCo Store). Compatible Watts UP Pro meters include: Watts Up PRO, PRO ES, and .NET models
Minimum system requirements ensure that SYSmark 2018 runs on broader categories of PC systems

• CPU: 1.5 GHz AMD® or Intel® dual-core processor
• RAM: 4 GB
• HDD/SSD: 25GB of free space on the primary drive
• Operating System: Microsoft® Windows® 10 64-bit or Microsoft® Windows® 7 64-bit
• Resolution: 1280×800 or 1366×768
• Graphics: DirectX 10 compatible

Approximate Running Time:  1 hour
Downloads
SYSmark 2018 v1.0.4.68 Patch 4 (~100mb)
SYSmark 2018 v1.0.4.68 Patch 4 Release notes
Watts UP Pro USB controller driver
Documentation
Results