Video: Benchmarking got you frustrated? Try CrossMark
Learn all about CrossMark, a cross-platform benchmark from BAPCo. CrossMark, a new cross-architecture performance benchmark that simplifies system performance and responsiveness measurement using common and relevant workloads. Supporting functionality for the most popular operating systems – including Windows, iOS and macOS – CrossMark is based on widely used open source applications to assess system performance scores in the areas of Productivity, Creativity and Responsiveness. Easy-to-Use. Fast. Free!
Introduction to BAPCo CrossMark
Additional features and highlights of CrossMark include:
Cross-Architecture System Benchmarking – Functions on Windows, iOS and macOS at launch to assess most modern systems, regardless of operating system type.
System Benchmark Modeled on Real Applications – Leverages workloads modeled on real applications using open sources libraries (i.e. OpenCV, openSSL, Zstandard, etc.) to accurately gauge common user performance.
Realistic Performance Scaling – Scales similar to real-world applications across processor frequency and cores and threads, in addition to system memory, storage and GPU capabilities.
Lightweight Install with Intuitive Interface Supporting Touch Screens – Streamlined user experience beginning with a quick installation process of less than a minute, necessitating less than 1GB of storage – users can begin benchmarking with a single click, or tap of their screen.
Automated Run Time Support – Provides the option to automate benchmarking tests to simplify and streamline system measurement.
Curated Online System Performance Database – Supports online results submission to enable real-time device comparison and evaluation.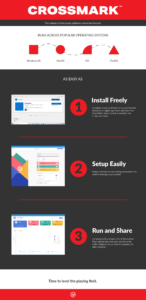 Users can download a basic version of CrossMark free of charge now on the iTunes & Windows Store. A professional version is available for $29.99 and enables additional application features like saving run time results locally.