SYSmark 25 tutorial part 4 of 4: How to submit results to the BAPCo results database Debuts on BAPCo's YouTube Channel. This four part series from BAPCo support will explain how to install and run SYSmark 25.
In part four, we demonstrate how to submit SYSmark 25 results to the BAPCo website. Although SYSmark 25 is the focus of this tutorial, the BAPCo results site allows users to submit results from any actively supported BAPCo product. The site also makes viewing and comparing results quick and easy, with a just a few clicks.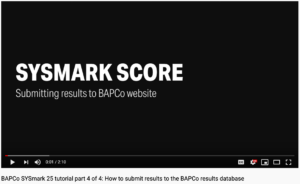 Subscribe to BAPCo's new channel and view the latest tutorial (part 4) at YouTube here.