SYSmark 25 tutorial part 3 of 4: How to run SYSmark 25 Debuts on BAPCo's YouTube Channel. This four part series from BAPCo support will explain how to install and run SYSmark 25.
In part three, we demonstrate how to kick off a run of SYSmark 25.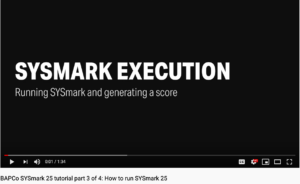 Subscribe to BAPCo's new channel and view the latest tutorial (part 3) at YouTube here.