Dennis Garcia at Hardware Asylum reviews the "EVGA Z490 Dark Motherboard" using BAPCo's NEW SYSmark 25 PC benchmark.
According to Hardware Asylum, "Our real world benchmarks are designed to illustrate a cross section in performance that covers gaming, video encoding, content creation and everyday office applications. The results are pretty straight forward and show some good numbers across the board and reflect some of what was shown on the Synthetic page. Normally performance differences can be attributed to UEFI tuning and memory compatibility where even the slightest change can have a big impact on real world applications."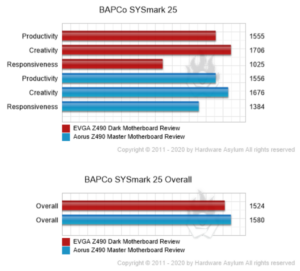 Head on over to Hardware Asylum for the full "EVGA Z490 Dark Motherboard" review here.
Grab a copy of BAPCo's SYSmark 25 PC benchmark up at the BAPCo Store here.