BAPCo® Releases SYSmark® 25 – The latest release of the premier PC performance metric featuring new Productivity, Creativity, and Responsiveness Scenarios.
Austin, Texas – 13th July, 2020 – BAPCo®, a non-profit consortium of leading PC hardware manufacturers, today released SYSmark® 25, the latest and 25th workload generation of the premier PC benchmark that measures and compares system performance using real-world applications and workloads.
What's new in SYSmark 25:
The 25th workload generation based on new Productivity, Creativity, and Responsiveness Scenarios
Updated third-party applications
Shorter install and run times
Dark mode support
New and improved BAPCo Results Database site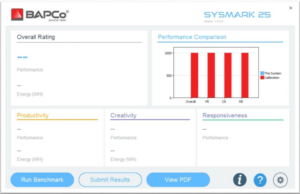 SYSmark 25 extends the SYSmark family, alongside MobileMark® and TabletMark®, which have been widely accepted by IT Managers, PC OEMs, press and analysts worldwide.
SYSmark 25 reflects the usage patterns of business users in the areas of Office Productivity, Creativity, and Responsiveness. Results from these areas provide end-users with results 'as measured by real-world applications' that form the definitive real-world application benchmark result. SYSmark is the foundation for tenders, purchasing decisions and response time analysis and insight to OEM's, ODM, Governments, test centers, media professionals around the globe.
The first release of SYSmark was in 1992. SYSmark 25 represents the 25th workload from BAPCo since SYSmark's inception. Each benchmark and new workload release is reflective of changing user usage models, the most adopted applications based on market share, and primarily driven from feedback from the industry, governments, standards authorities, and communities across the globe.
The new Productivity Scenario has updated workloads and applications geared towards office centric user activities. The new Creativity Scenario features updated workloads and applications geared toward media-centric user activities. The new Responsiveness Scenario models 'pain points' in the user experience. These common activities that include: application launches, file launches, web browsing with multiple tabs, multi-tasking, and background application installation.
Using only unmodified retail versions of real-world applications for measurement, SYSmark 25 features new and updated versions of, among others, Microsoft Office, Google Chrome & the Adobe Creative Cloud.
SYSmark 25 also includes an enhanced graphical user interface with localized GUI and documentation for English (US), Brazilian Portuguese, Simplified Chinese, French, German, Italian, Japanese, Polish, Spanish (SP).
Flexible licensing options are now available for small businesses to enterprise organizations running Windows 10.
Since 1991 the SYSmark family of benchmarks has been used by PC OEMs, hardware and software developers, IT departments, system integrators, publishers and testing labs as well as information technologists and computer industry analysts.
BAPCo's membership development team represents the breadth of the computing industry and harnesses a consortium of experts.
Ordering Information:
BAPCo's SYSmark 25 is available from resellers and directly from BAPCo at store.bapco.com.
About BAPCo®
The Business Applications Performance Corporation (BAPCo) is a non-profit consortium of leading independent testing labs, PC hardware manufacturers, semiconductor manufacturers, and software publishers.
Current BAPCo members include: Acer, ARCIntuition, ASUS, Compal, Dell, Dynabook, Hewlett-Packard, Hitachi, Intel, Inventec, LC Future Center, Lenovo, Pegatron, Quanta Computer, Samsung, Western Digital, Wistron, and others. Any organization interested in contributing to the consortium's goals and purposes are welcome to join BAPCo.
For more information, visit www.bapco.com and store.bapco.com
BAPCo, SYSmark and, MobileMark are registered trademarks of the Business Applications Performance Corporation. All other names mentioned are trademarks or registered trademarks of their respective companies.
Twitter: @SYSmark
Email: [email protected]