Ganesh T S at AnandTech reviews the "ECS LIVA Z3 Plus" using BAPCo's SYSmark 25 Benchmark.
According to AnandTech, "The relative ordering of the performance numbers is no surprise, given that we are comparing a quad-core system (ECS LIVA Z3 Plus) with a hexa core Frost Canyon NUC and an octa-core 4X4 BOX, and also considering the fact that the LIVA operates in single-channel mode. These aspects should lead to lower power consumption numbers – this is seen in the productivity workload. However, creativity – which is dependent on GPU and multi-core performance – sees the LIVA incur a penalty due to the longer time taken to complete the tasks. We also see that in the bigger gulf in the performance scores."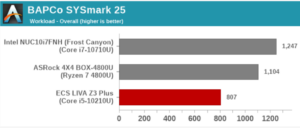 Head on over to AnandTech for the full "ECS LIVA Z3 Plus Review: Compact Comet Lake NUC Clone Cuts Corners" here.
Grab a copy of BAPCo's SYSmark 25 PC benchmark up at the BAPCo Store here.