Ganesh T S at AnandTech reviews the "ASRock DeskMini H470" using BAPCo's SYSmark 25 Benchmark.
According to AnandTech, "SYSmark 25 is a relatively recent addition to our benchmark suite, and we only have results from the Ghost Canyon NUC for comparison in this section. In pitting a 45W Core i9-9980HK against a 65W Core i7-10700 – both having a 8C/16T configuration, we expect the higher TDP part to have a slight edge in performance. The benchmark scores back that up. However, the discrete GPU in the Ghost Canyon NUC puts it at a distinct disadvantage in the energy consumption numbers."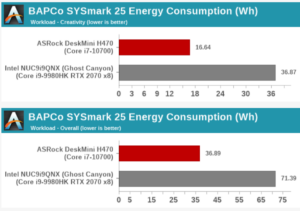 Head on over to AnandTech for the full "ASRock DeskMini H470 Review: A No-Frills LGA 1200 mini-PC Platform" review here.
Grab a copy of BAPCo's SYSmark 25 PC benchmark up at the BAPCo Store here.