SYSmark 2018
How do I configure a non-English OS installation for use with BAPCo SYSMark or MobileMark?
For testing on Non-Engish OS, SYSmark 2018 and MobileMark 2018 installers will configure the system correctly for the supported languages, provided the operating system is installed in a supported language, i.e., German.
SYSmark and MobileMark support seven Non-English languages. Download the .pdf for the target language and follow the instructions to configure the operating system.
Which device drivers should I use when testing with BAPCo benchmarks?
When using BAPCo benchmarks to evaluate performance or battery life, one should install the latest production drivers from the hardware manufacturer. Drivers included with the operating system may not be device specific or newer drivers may be available from the device manufacturer.  Using incorrect drivers could result in significantly reduced performance.
System information may take a long time to run
On some systems with large amounts of data in the Windows Error logs, system information may take a long time to complete. The system may appear unresponsive, but it should complete after a few minutes. To avoid this delay, clear the Windows Error logs on the system under test prior to launching SYSmark 2018 or MobileMark 2018.
SYSmark 2018 or MobileMark 2018 may fail if Windows taskbar is set to autohide
SYSmark 2018 or MobileMark 2018 may fail if the Windows taskbar is configured to autohide. Leave the taskbar default setting of always visible to avoid this problem.
SYSmark 2018 may fail if Windows Search service is disabled
Some of the applications included with SYSmark 2018 may fail to work properly if the Windows Search service is disabled. When testing with SYSmark 2018, BAPCo recommends that users run with the default setting for Windows Search service, which is set to enabled.
SYSmark 2018 error: Failed to find valid license key, please reinstall benchmark
Some users may encounter the error "Failed to find valid license key, please reinstall benchmark" when testing with SYSmark 2018 on supported non-English languages. To work around this problem, navigate to the following location in the registry: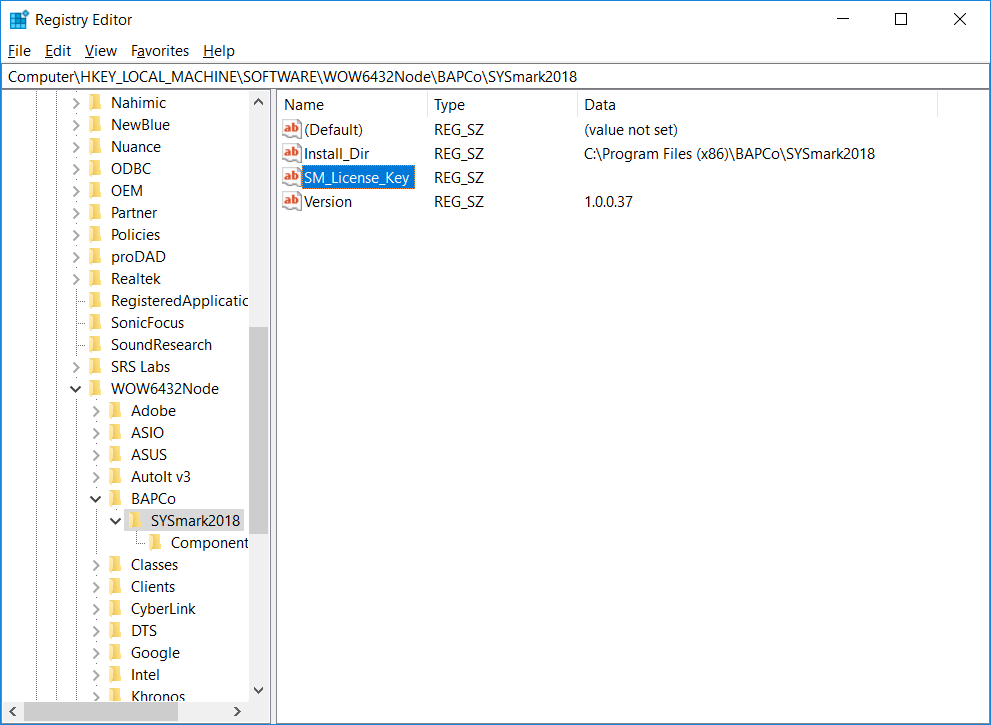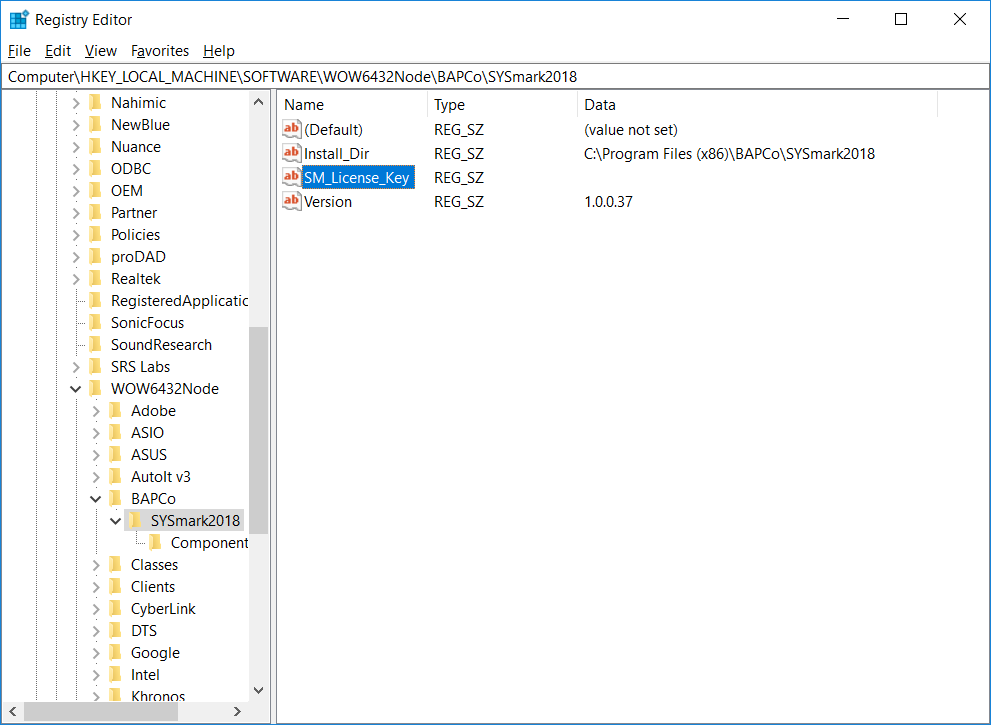 Double click on the SM_License_Key entry and paste your license key into the 'Value Data' blank. Click ok to save the update. Close regedit edit and reboot the system. Once the system has rebooted, SYSmark 2018 should be working correctly.
This procedure will need to be performed for each new installation of SYSmark 2018, prior to the first launch the benchmark.
Why did my SYSmark 2018 installation expire
Some of the applications in SYSmark 2018 have licensing restrictions which cause them to expire after 7 days. SYSmark 2018 will warn the user prior to this expiration. Once the installation has expired, the system under test must be wiped completely, and a new instance of SYSmark 2018 must be installed.
SYSmark 2018 may hang when testing on configurations with disabled network adapters
SYSmark 2018 may hang when testing on configurations with disabled network adapters. To avoid this issue, BAPCo recommends that customers be sure that all network adapters on the system under test are enabled.
BAPCo will release a fix for this issue in an upcoming version of SYSmark 2018.
SYSmark 2018 v1.0.0.39 hotfix 2
The following hotfix corrects an issue that caused SYSmark 2018 v1.0.0.38 hotfix 1 to incorrectly mark FDRs as invalid.
Download sm18_hotfix2_v1.0.0.39
Instructions:
1) Copy hotfix package to the to target system
2) Unzip the archive to extract the hotfix installer
3) Be sure that any instances of SYSmark 2018 are closed before attempting to apply the hotfix package
4) Right click the extracted .exe and run as administrator
SYSmark 2018 v1.0.0.37 OR SYSmark 2018 v1.0.0.38 hotfix 1 must be installed to apply hotfix 2
After the hotfix is applied, launch SYSmark 2018. The new version should be reported as 1.0.0.39.
How do I remove Microsoft Office from OEM images prior to installing BAPCo benchmarks?
As BAPCo benchmarks such as SYSmark and MobileMark include all the applications required to run the benchmark(s) users must be certain that any previous installation of those same applications are completely removed from the OEM preload prior to attempting to install a BAPCo product.
Microsoft provides a tool for removing Office installations. Please use this tool prior to installing any BAPCo benchmark on systems where Office is preinstalled.
Note, there may be other applications, ie, Adobe Creative Suite that will need to be removed as well. This FAQ item covers MS Office only.
Does turning Windows Defender off affect the SYSmark performance score?
Does Windows Tamper Protection affect the SYSmark performance score?
Tamper Protection can limit the ability of the SYSmark/MobileMark System Configuration Tool to modify some system settings.  Some of those settings, like disabling Windows Defender, can affect the SYSmark/MobileMark performance score.
Windows 10 version 19H2 version reporting in BAPCo benchmark results
With the release of Windows 10 19H2, Microsoft made a change to the mechanism used for Windows 10 version reporting.
Current generation BAPCo products have been updated (SYSmark 2018 fix will be included in the upcoming patch 3) to report the OS version correctly. However, customers with down-level versions of BAPCo benchmarks may find that in some cases, Windows 10 19H2 will be reported as Windows 10 19H1.
BAPCo encourages customers to always update to the latest patch for their product. Please see the product page on the BAPCo website for the latest updates for your benchmark product.
Why are my scores lower with Windows 10 build 20H1 (19041.450)
Microsoft recently released an update to Windows 10's Microsoft Defender application which makes it impossible to permanently disable the Microsoft Defender Antivirus protection service. This change appears in Windows 10 build 20H1 (19041.450), and is part of KB4052623. As per the Microsoft documentation, this setting is no longer necessary, as Defender will automatically disable itself if third party AntiVirus software is installed on the system.
Customers running BAPCo benchmarks on Windows 10 build 20H1 (19041.450) may notice a negative impact to benchmark scores as a consequence of this update.
BAPCo is also investigating a known issue with Windows 10 build 20H1 (19041.450), in which the PDF results file may incorrectly report the state of Microsoft Defender as disabled.
How to disable Microsoft Defender in Windows 10 build 20H1 (19041.450)
Windows 10 build 20H1 (19041.450) introduced a change that prevents the user from permanently disabling Microsoft Defender. The inability to disable Microsoft Defender may negatively impact scores when running BAPCo benchmarks. Microsoft has provided documentation for users that may wish to roll back their instance of Microsoft Defender to a previous version.
Where are the benchmark results located?
This FAQ applies to MobileMark 25, SYSmark 25, MobileMark 2018, and SYSmark 2018.
Upon completion of a benchmark run, a folder called 'Results' is created on the desktop, and the output from the run will deposited into a subfolder that matches the project name. For example, if the project is 'My Project' the output folder will be on the desktop under '../Results/My Project/'.