Chris Ramseyer at TweakTown Reviews the "Intel Optane Memory H10 Hybrid SSD" using BAPCo's SYSmark 2018 Benchmark ("Responsiveness" scenario & Energy Consumption feature).
According to TweakTown, "This is the first time we've used the SYSmark 2018 test. Part of the suite measures the system responsiveness. This is one area where Optane technology usually shows an advantage. We didn't see that in our tests where the default test runs three times back to back."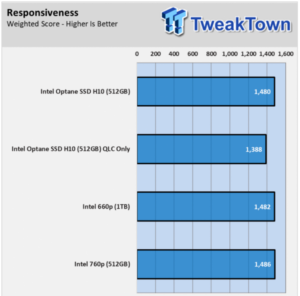 Head on over to TweakTown for the full "Intel Optane Memory H10 Hybrid SSD Preview" Review here.
Grab a copy of BAPCo's SYSmark 2018 PC benchmark up at the BAPCo Store here.