"SYSmark 25 tutorial part 1 of 4: How to prep your image" Debuts on BAPCo's YouTube Channel. This four part series from BAPCo support will explain how to install and run SYSmark 25.
In part one, we demonstrate how to make a back up of the target system image, then prep the operating system for SYSmark 25 installation.
For purposes of this demonstration, the back up image files are saved to the C:\ drive. BAPCo recommends that your back up image be archived to external media rather than saved to the target system's internal storage.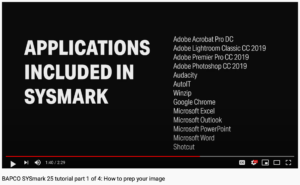 Subscribe to BAPCo's new channel and view the latest tutorial at YouTube here.