Hardware Asylum – Crucial BX500 960GB SSD Drive Review using BAPCo's SYSmark 2018 Benchmark
Dennis Garcia at Hardware Asylum reviews the "Crucial BX500 960GB SSD Drive" using BAPCo's  SYSmark 2018 PC benchmark.
According to Hardware Asylum, "The system used to test these drives is a standard LGA 2011 X-Series Kaby Lake processor which would represent a typical gaming rig. There are aspects of a gaming system that do influence storage performance including speed of the system ram and how many cores the CPU has. Needless to say, results can and will vary depending on your setup."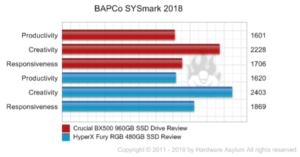 Head on over to Hardware Asylum for the full "Crucial BX500 960GB SSD Drive" review here.
Grab a copy of BAPCo's SYSmark 2018 PC benchmark up at the BAPCo Store here.