Austin, Texas – December 22, 2018 – BAPCo®, a non-profit consortium of leading PC hardware manufacturers, today released MobileMark® 2018, the premier performance-qualified battery life metric based on real world applications.
What's new in MobileMark 2018:
– All-new Productivity, Creativity, and Web Browsing Scenarios
– Shorter install time
– A streamlined "click-and-run" user interface
– Updated system configuration tool that restores original settings
– Updated third-party applications
– Enhanced FDR Results information with Results consolidated into a single file
– Localized GUI support for multiple languages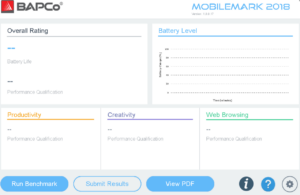 MobileMark 2018 extends the MobileMark family, alongside SYSmark® TabletMark® and APPmark™, which have been widely accepted by IT Managers, PC OEMs, press and analysts worldwide.
MobileMark reflects usage patterns of business users in the areas of Office Productivity, Creativity and Web Browsing. The new Productivity Scenario has updated workloads and applications geared towards office centric user activities. The new Creativity Scenario which has updated workloads and applications geared toward media centric user activities. In addition, the new Web Browsing models the user browser and video playback experience.
Using only unmodified, retail versions of real-world applications for measurement, MobileMark 2018 features new and updated versions of, among others; Microsoft Office 2016, Google Chrome & the Adobe Creative Cloud.
MobileMark 2018 also includes an enhanced graphical user interface with localized GUI and documentation for English (US), Chinese (Simplified), German, Russian, Portuguese (Brazilian), Japanese, Spanish, Polish & French with a simplified "click and run" design. Reporting is available in a convenient combined, single result PDF. The MobileMark 2018 White Paper can be found up at the BAPCo website here.
Flexible licensing options are now available for small business to enterprise organizations running 64-bit versions of Windows 10.
Since 1991 the BAPCo family of benchmarks has been used by PC OEMs, hardware and software developers, IT departments, system integrators, publishers and testing labs as well as information technologists and computer industry analysts.
BAPCo's membership development team represents the breadth of the computing industry and harnesses a consortium of experts.
Ordering Information:
BAPCo's MobileMark 2018 is available from resellers and directly from BAPCo at store.bapco.com
About BAPCo®
The Business Applications Performance Corporation (BAPCo) is a non-profit consortium of leading independent testing labs, PC hardware manufacturers, semiconductor manufacturers and software publishers.
Current BAPCo members include: Acer, ARCintuition, ChinaByte, CNET, Compal, Dell, Hewlett-Packard, Hitachi, Intel, Inventec, LC Future Center, Lenovo, Microsoft, Pegatron, Quanta Computer, Samsung, Toshiba, Western Digital, Wistron, Zol and others. Any organization interested in contributing to the consortium's goals and purposes are invited to join BAPCo.
For more information, visit www.bapco.com and store.bapco.com
BAPCo, SYSmark, MobileMark and TabletMark are registered trademarks of the Business Applications Performance Corporation. APPmark is a trademark of the Business Applications Performance Corporation. All other names mentioned are trademarks, or registered trademarks of their respective companies.
Twitter: @BAPCoMobileMark