Ganesh T S at AnandTech reviews the "Zotac ZBOX CI660 nano Fanless mini-PC" using BAPCo's SYSmark 2018 benchmark.
According to AnandTech, "Despite being a dimunitive machine compared to the reference desktop, the ZBOX CI660 nano manages impressive scores across all the workloads due to its quad-core processor. In terms of raw performance and performance per watt, it is only surpassed by the Core i7-based Bean Canyon NUC (NUC8i7BEH)."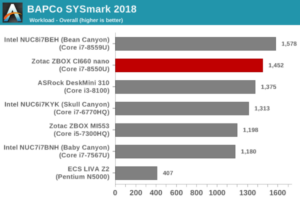 Head on over to AnandTech for the full "Zotac ZBOX CI660 nano Fanless mini-P" here.
Grab a copy of BAPCo's SYSmark 2018 PC benchmark up at the BAPCo Store here.