Billy Tallis at AnandTech reviews the "Crucial P1 1TB SSD" using BAPCo's NEW SYSmark 2018 benchmark.
According to AnandTech, "The creativity and productivity scenarios are relatively unaffected by storage performance, and depend much more on compute power. The responsiveness scores are more dependent on storage performance, but even so the differences between SSDs are fairly small. The Crucial P1 is outperforms the MX500 SATA drive but is a bit slower than the high-end NVMe drives."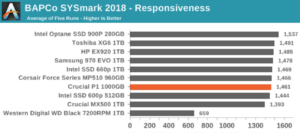 Head on over to AnandTech for the full "The Crucial P1 1TB SSD Review: The Other Consumer QLC SSD" here.
Grab a copy of BAPCo's NEW SYSmark 2018 PC benchmark up at the BAPCo Store here.