Ganesh T S at AnandTech reviews the "ASRock DeskMini 310 Mini-PC" using BAPCo's SYSmark 2018 benchmark.
According to AnandTech, "The DeskMini 310 comes in the middle of the pack across all the SYSmark 2018 scenarios. However, in terms of energy consumption, it is in the top half. This bodes well for the DeskMini 310 being an energy-efficient machine for office use."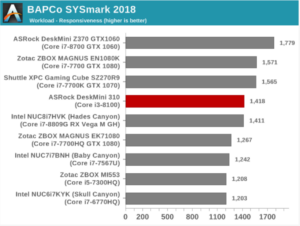 Head on over to AnandTech for the full "ASRock DeskMini 310 Mini-PC" here.
Grab a copy of BAPCo's SYSmark 2018 PC benchmark up at the BAPCo Store here.