Ganesh T S at AnandTech reviews the "Intel NUC10i7FNH Frost Canyon: Hexa-Core NUC" using BAPCo's SYSmark 2018 benchmark.
According to AnandTech, "The 'Creativity' workload benefits from the extra cores in Frost Canyon compared to the Core i7-8559U in the Bean Canyon."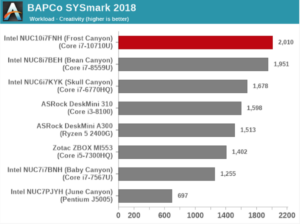 Head on over to AnandTech for the full "Intel NUC10i7FNH Frost Canyon Review: Hexa-Core NUC Delivers a Mixed Bag" review here.
Grab a copy of BAPCo's SYSmark 2018 PC benchmark up at the BAPCo Store here.