Ganesh T S at AnandTech reviews the "Intel Ghost Canyon NUC9i9QNX" using BAPCo's SYSmark 2018 benchmark.
According to AnandTech, "Systems equipped with 65W+ TDP desktop processors get higher scores in most workloads, though only the DeskMini Z370 manages an higher overall rating compared to the NUC9i9QNX. The surprising result is the responsiveness score for the two Ghost Canyon configurations – having the Optane drive talk directly to the CPU without the DMI bottleneck makes the system significantly more responsive."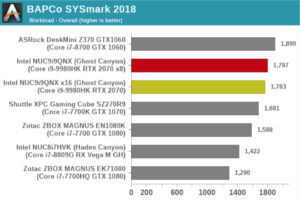 Head on over to AnandTech for the full "Intel Ghost Canyon NUC9i9QNX Review: NUC 9 Extreme Realizes the SFF Dream" review here.
Grab a copy of BAPCo's SYSmark 2018 PC benchmark up at the BAPCo Store here.