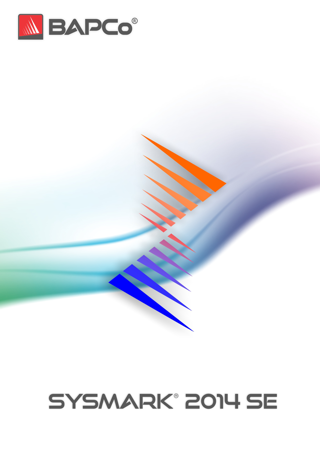 SYSmark 2014 SE (Second Edition)
End of Life:
On 1 August 2020, BAPCo ceased sales and support of SYSmark 2014 SE, and will no longer accept results submissions from SYSmark 2014 SE versions. Patches for end of life products will not be released. EOL products are no longer available for purchase, support, or result submission.

Customers are encouraged to move to SYSmark 25, in order to get the benefits of the updated applications, workloads, and benchmark design.
Questions may be directed to [email protected] or [email protected]
SYSmark® 2014 SE (Second Edition) is an application-based benchmark that reflects usage patterns of business users in the areas of Office Productivity, Data/Financial Analysis and Media Creation. Joining these in SYSmark 2014 SE is a new Responsiveness scenario which models 'pain points' in the user experience when performing common activities. SYSmark 2014 SE features the most popular applications from each of their respective fields.
SYSmark® 2014 SE also includes a new Energy Consumption feature which records energy usage in watt-hours during the workloads.
SYSmark® 2014 SE features:
Support for Microsoft Windows® 7, Windows® 8.1, Windows® 10 (64-bit only)
Localized GUI for Chinese and German
New and updated applications (MS-Office 2013, Google Chrome ver. 53, Corel WinZip 17.5, Adobe Acrobat Pro XI, Adobe Photoshop CS6 Extended, Adobe Premiere Pro CS6, Trimble SketchUp Pro 2013, Adobe Lightroom 6.4, GIMP 2.8.16)
Updated usage models (workloads use commercially available shrink-wrap software)
New "Responsiveness" scenario. Workloads include: application launches, file launches, web browsing with multiple tabs, multi-tasking, file copying, photo manipulation, file encryption + compression, and background application installation
Improved results (FDR) formatting
New uninstall and system restore functionality
Allows active Internet connection during benchmark installation and execution
New Energy Consumption feature which records energy usage in watt-hours during the workloads. Requires a Watts Up Pro meter (sold separately). Compatible meters include: Watts Up PRO, PRO ES, and .NET models as well as the newly added Extech 380803 with SYSmark 2014 SE Patch 1.
Minimum system requirements ensure that SYSmark 2014 SE runs on broader categories of PC systems

CPU: 1.0 GHz AMD® or Intel® dual core processor
RAM: 2 GB
HDD/SSD: 50 GB of free space on the primary drive
Operating System: Windows® 7, 8.1, 10 (64-bit only)
Resolution: 1024×768
Graphics: DirectX 9 compatible

Approximate Running Time:  1.5 hours
Downloads
SYSmark 2014 SE patch 3 v2.0.3.120 Release notes
SYSmark 2014 SE patch 3 v2.0.3.120 installer (~141mb)
Watts UP Pro USB controller driver
Documentation
Results