Please note that this product is no longer supported. For a list of current BAPCo products, please click here.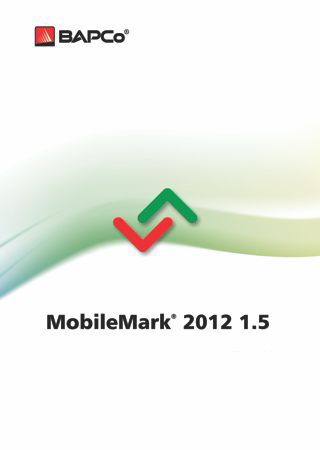 MobileMark 2012
MobileMark® 2012 is an application-based benchmark that reflects usage patterns of business users in the areas of office productivity, media creation and media consumption. Unlike benchmarks that only measure battery life, MobileMark 2012 measures battery life and performance simultaneously, showing how well a system design addresses the inherent tradeoffs between performance and power management.
MobileMark® 2012 v1.5 features: Support for Windows 8 Application based benchmarking: Reflects usage patterns of business users in the areas of office productivity and media creation, featuring 15 real world and 64-bit native versions (where available) of applications such as Microsoft® Office 2010. Unlike synthetic benchmarks, application benchmarking does not artificially drive components to peak capacity or attempt to deduce performance using a static simulation of application behavior.
Battery Life and Performance
MobileMark 2012 1.5 measures battery life and performance simultaneously.
Wireless Connectivity
The Office Productivity scenario sends traffic over the systems Wi-Fi adapter.
Screen Brightness
Higher display brightness than MobileMark® 2007, as well as support for screen dimming during periods of user inactivity.
Easy-to-Use Evaluation Tool
Provides commercial and government IT decision makers, retailers, media, channel buyers, consultants, component designers, hardware designers, and manufacturers an objective, easy-to-use tool to evaluate the performance-qualified battery life of notebook PCs across a wide range of activities.
New Workloads
Updated user workloads and data sets to more closely reflect user expectations of battery life.
Simplified Configuration and Execution
Integrated features such as the system configuration tool, and the heads-up display, make setting up the test and monitoring its status easier than ever.
Better Reporting
Exportable, easy to read PDF format full disclosure reports (FDR) include battery health and charge level plotting.
Collaborative Development
BAPCo benchmarks are the result of cooperative development between companies representing the breadth of the computing industry.
MobileMark 2012 v1.5 installs and/or uses the following applications:
OS: Windows 7 or Windows 8, 64bit
CPU: 1.3GHz dual core processor or higher
RAM: 3GB system RAM
Free space: At least 30gb free space on the primary storage device
Graphics: DirectX 9 compatible graphics adapter
Resolution: 1024 x 768 or higher display resolution
Optional Blu-ray reader: Required only for Blu-ray playback scenario
Wireless router: (required for Office Productivity and Media Creation & Consumption scenarios) BAPCo has tested and recommends the following wireless router models for use when running the Office Productivity or Media Creation & Consumption scenarios:
Netgear N900 Wireless Dual-Band Gigabit Router (WNDRD4500)
Linksys E3200 High-Performance Simultaneous Dual-Band Wireless N Router
MobileMark 2012 Downloads
MobileMark 2012 v1.5 Patch5 update (~102mb)
MobileMark 2012 v1.0 patch 1 update (71mb)
Fix for Windows 8 or Windows 8.1 lock screen issue Disable Lock Screen and instructions for applying fix