BAPCo® Releases MobileMark® 25
The industry-standard battery life benchmark makes battery life comparisons even easier with the new MobileMark Index score
AUSTIN, Texas – September 15th, 2021 – BAPCo®, a non-profit consortium of leading PC hardware manufacturers, unveils MobileMark® 25, the latest release of the performance indexed battery life benchmark for notebook PCs that run the most popular real-world applications.
Key features of MobileMark 25:
New MobileMark Index highlights the balance between performance and battery life
Brightness Profiler, an exclusive innovation in screen calibration utilities
Updated and embedded versions of the world's most used third-party applications without requiring additional installs or acquisition cost
Seven new sub scenarios for better result balance and reach
Part of BAPCo's curated online result database suite
Compatible with live internet connections
Extended test window duration
The new MobileMark Index score combines the DC Performance score and Battery Life score into a single metric which helps users find the best compromise of performance and battery life to fit their needs.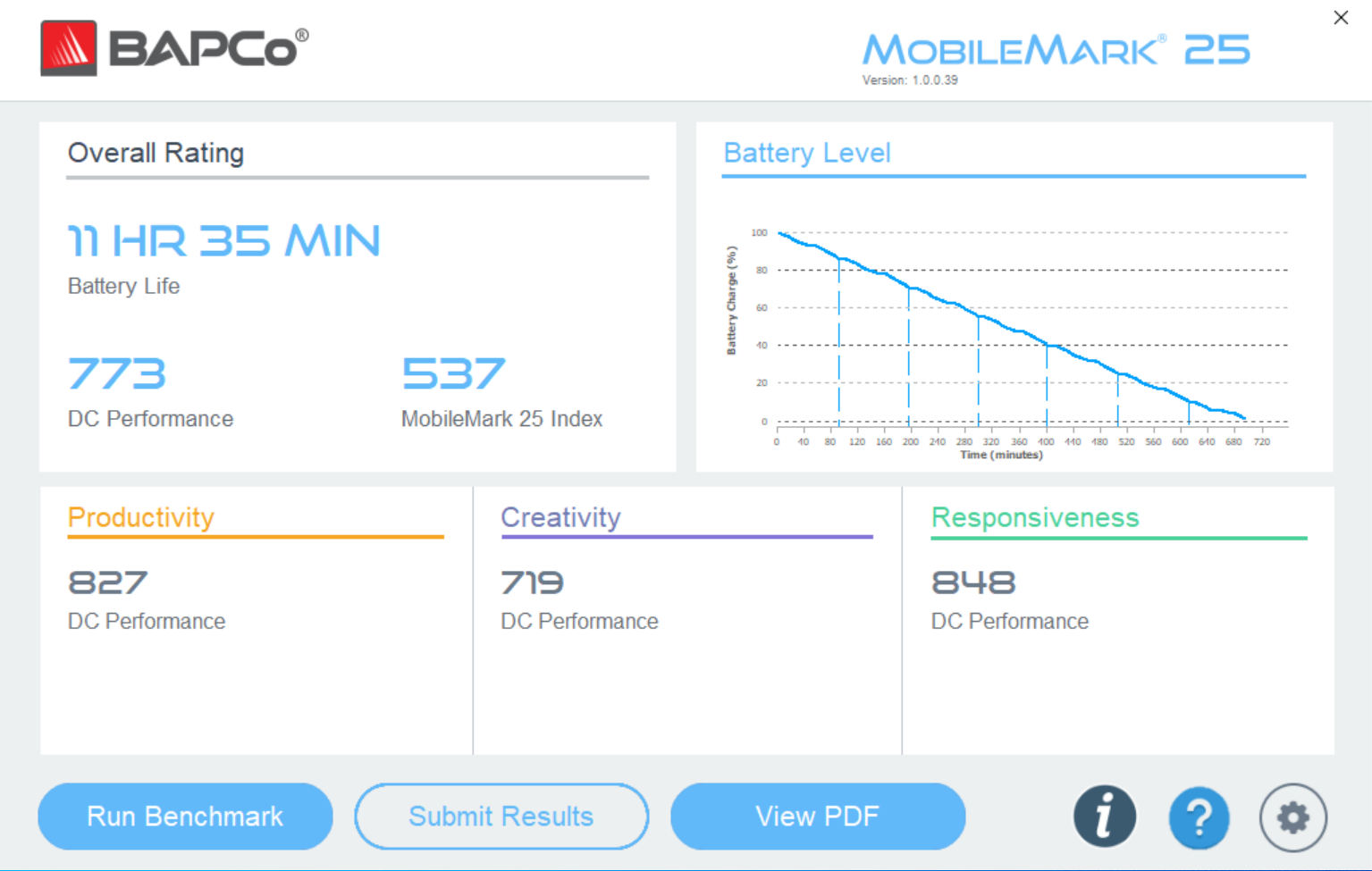 The Brightness Profiler, an innovation in screen calibration utilities and unique to MobileMark, makes screen calibration a breeze to assist in uniform and consistent image calibration across a variety of screen types and technologies.
Using only unmodified retail versions of real-world applications for measurement, MobileMark 25 includes new and updated versions of Microsoft Office, Google Chrome & the Adobe Creative Cloud suite. This ensures fair and accurate comparisons across multiple systems.
The new productivity scenario has been designed to best capture the modern mobile office user who seeks remain productive while on the go. These activities include: spreadsheets, word processing, OCR, email, file compression and encryption, file launches, web browsing with multiple tabs, video playback, multi-tasking, and background application installation.
The new Creativity scenario seeks to model a multimedia expert looking to maximize their time capturing the visual creations all around us while remaining unplugged from the world. These activities include: photo editing, photo organization and video editing.
MobileMark 25 results can be submitted and are part of BAPCo's curated online result database, where only peer member-reviewed benchmark results are designated as published. This designation provides accuracy assurance publication claims, tender submissions by open public access to official FDRs (Full Disclosure Report).
"Dell uses many tools to evaluate system and subsystem performance. We are dedicated to working with BAPCo and its member companies to develop real-world usage models and scenarios within industry-leading applications to evaluate the performance of both desktop and mobile solutions."
– Dell
"HP Inc. is committed to giving its customers the best computer performance possible. HP Inc. participates in the development of the SYSmark and MobileMark families of benchmarks from BAPCo to allow us to test computers with real-world software applications and scenarios, producing results that are meaningful to our customers."
– HP Inc.
"The Lenovo PC development teams trust BAPCo benchmarking tools to help evaluate performance and optimize devices to provide smarter technology for all. Leveraging MobileMark 25 and SYSmark 25 performance metrics validates our focus on real-world application performance in our efforts to deliver unique customer experiences."
– Lenovo
About BAPCo®
The Business Applications Performance Corporation (BAPCo) is a non-profit consortium of leading independent testing labs, PC hardware manufacturers, semiconductor manufacturers, and software publishers.
Current BAPCo members include: Acer, ARCintuition, ASUS, Compal, Dell, Dynabook, Hewlett-Packard, Hitachi, Intel, Inventec, LC Future Center, Lenovo, Pegatron, Quanta Computer, Samsung, Western Digital, Wistron, and others. Any organization interested in contributing to the consortium's goals and purposes are welcome to join BAPCo.
For more information, visit bapco.com and store.bapco.com
BAPCo, CrossMark, SYSmark and, MobileMark are registered trademarks of the Business Applications Performance Corporation. CrossMark is a trademark of the Business Applications Performance Corporation.  All other names mentioned are trademarks or registered trademarks of their respective companies.
Contacts
BAPCo
888-893-6668
Email: [email protected]
Twitter: @BAPCoMobileMark
IG: BAPCoBenchmarks