Aaron Yip at Hardware Zone reviews the "AMD Ryzen 9 5900X and Ryzen 9 5950X" using BAPCo's SYSmark 25 benchmark.
According to Hardware Zone, "SYSmark 25 also shows this to be the case with the 5900X outperforming Intel's top processor in all verticals. Results for the 5950X is a little bit more interesting, where its lower base clock of 3.4GHz no doubt gave it a lower score – but only just behind the i9-10900K – in Productivity but it more than makes up for it in Creativity where its superior core count puts it head and shoulders above everyone else."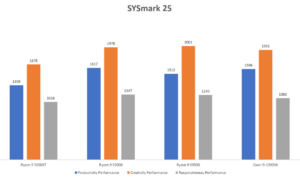 Head on over to Hardware Zone for the full "AMD Ryzen 9 5900X and Ryzen 9 5950X: The best gaming processors are here" Review here.
Grab a copy of BAPCo's SYSmark 25 PC benchmark up at the BAPCo Store here.